Coats 4 Kids Coat Drive
WINTER IS COMING – Yes, we know this is Florida, but did you know that January is the coldest month of the year in Tampa? The average low temperature in Tampa in January is a chilly 52 degrees. Overnight freeze warnings are not uncommon and only 4 years ago icicles were observed at Al Lang Stadium when the City of Tampa recorded a low of 29 F on January 18, 2018. While record lows may not be reached again this year, according to weather forecasts this winter will be cooler than normal.
Every Child Deserves to be Warm
Moore Law recognizes that each year many school children don't have adequate protection from the cold.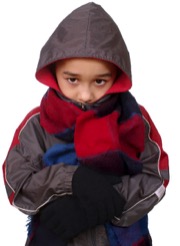 Children walking to and from school, at recess, and at play at home are exposed to these cold temperatures. Lack of a warm coat on these days can lead to health issues with children getting sick, colds and flu spreading, trips to the doctor, and missing school. It's a challenge for many lower income families to continue buying coats as their children grow, especially when they are used for only a few months each year. We believe every child deserves to have a warm coat for the winter season.
Coat Drive Benefitting Students at Mort Elementary School
That is why Moore Law is sponsoring a Coats 4 Kids coat drive to benefit students in need at Mort Elementary School, which is located off Bearss Avenue in Tampa. Mort Elementary is a Community Partnership Hillsborough County Public School with an exceptional administration, staff, and students. As a Title 1 school it does have a high population of low-income families. A large percentage of its students walk to and from school each day. These students will be returning to school from the winter break on January 4, 2022 just in time to brave the expected colder weather.
How You Can Donate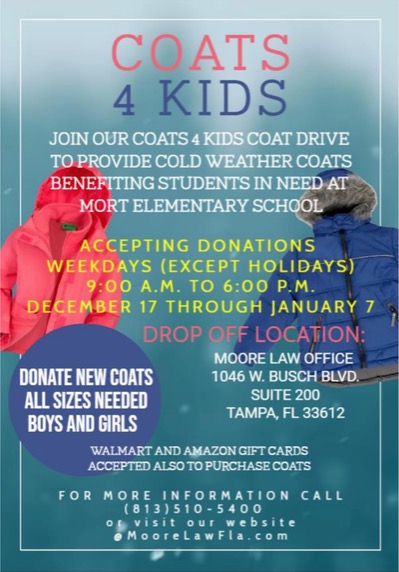 We need your help to make this Coats 4 Kids drive a success to provide as many warm weather coats for these children as possible.
You can help by donating New Coats between December 17, 2021 through January 7, 2022 at Moore Law's office located at 1046 W. Busch Blvd, Suite 200, Tampa, FL 33612. Moore Law can receive your donation on weekdays, except holidays, between the hours of 9:00 a.m. through 6:00 p.m.
Both girls' and boys' coats are needed of all sizes. Because of the pandemic we are accepting ONLY new coats. If you would rather us do the coat shopping for you, we are also accepting Walmart and Amazon gift cards of any denomination.
For more information or directions, please call the office at 813-510-5400.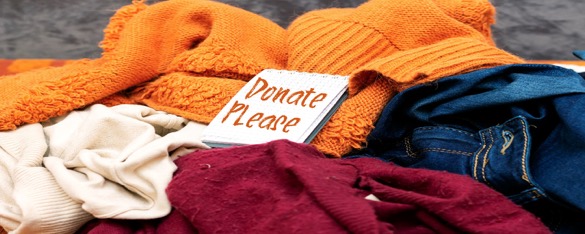 Please join us to support these children and help keep them warm this winter. We thank you in advance for your donation.