1 Killed In Train Crash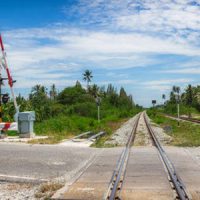 Unfortunately, motorists sometimes think they are invincible. They drive recklessly and even try to beat fast-moving trains.
This was recently the case in Florida. The driver of a pickup truck made a right turn just as a train was approaching. The driver did not complete the turn. It collided with the train, killing the pickup truck driver. The fatal accident occurred on the afternoon of December 19.
The incident happened at West Airport Boulevard and Old Lake Mary Road, near Sanford. A pickup truck was traveling north along Old Lake Mary Road as the train approached.
The signal lights were activated and the railroad gate arms came down. Still, the driver of the pickup did not stop. They proceeded to make a right turn onto West Airport Boulevard. This caused the train to collide with the truck.
The driver of the truck died at the accident scene. Nobody on the train was injured in the crash.
Don't Beat the Train
As you approach a railroad track with the crossing arm down and the bells and whistles going off, you may look to see a train still off in the distance. You can surely beat it, right?
Wrong! You should never attempt to beat a train. Trains are not slow-moving vehicles. They can reach triple-digit speeds, and you may not realize that from afar, especially since trains are also deceptively silent.
A loaded freight train can be a mile long and travel at speeds around 50 miles per hour. Once the emergency brakes are engaged, it can take more than one mile to stop. By comparison, it takes a passenger vehicle roughly 200 feet to stop in an emergency. And keep in mind that a train cannot swerve.
You may think you know the train's travel patterns. You may think you know where and when trains operate. However, don't be so sure. Schedules change and trains can operate in either direction.
Also, it's important to always exercise railroad safety — you never know who may be watching. Every five days, a child is killed in the United States after being hit by a train. Children learn from those around them. Studies show that more than half of parents admit to engaging in risky behavior near railroad tracks, such as driving around gates.
Contact a Personal Injury Attorney Today
Train accidents are often fatal due to the speed and size of a train. It is never advised to try to beat a train. Be patient and wait; your life depends on it.
Injured in a train accident? A Tampa train crash attorney from Moore Law can help determine liability and damages. Need compensation? We'll help you get Moore. To schedule a free consultation, call 813-510-5400 or fill out the online form.
Source:
clickorlando.com/news/local/2022/12/19/1-dead-after-sunrail-train-pickup-collide-near-sanford-fire-crews-say/