Construction Worker Killed In 13-Story Fall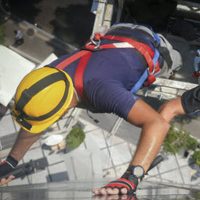 The workplace is supposed to be safe. Nobody wants to die while at work, but it happens quite often, unfortunately. This is especially true in the construction industry. Many hazards are present on construction sites, with heights being one of the biggest issues. Buildings can be dozens of stories tall. When a worker falls, the results can be disastrous or even fatal.
Unfortunately, this was recently the case in Florida. A construction worker fell 13 stories while working on a building in the Quay Commons area of Sarasota. The fatal accident occurred on the morning of February 15 at the Bayso construction site.
The 21-year-old man was painting on the 18th floor when he fell to the fifth floor. It is unknown why he fell. The Sarasota Fire Department responded to the site and took the man to a local hospital, where he later died.
Police officers went to the construction site that afternoon to interview witnesses. The crime scene unit examined the site and took photos. At this time, the man's death has been ruled an accident. The accident is under investigation by the Occupational Safety and Health Administration (OSHA).
Falls on Construction Sites
Falls are the top cause of construction worker fatalities. They account for 30% of all on-the-job deaths in the industry. While falls can happen in a number of work settings, construction has the most fatal falls out of all industries, accounting for 51% of all falls in the United States.
Causes of falls include:
Inadequate fall protection. Employers have an obligation to provide workers with the tools and equipment they need to do their jobs safely, especially when workers perform jobs at heights. Harnesses, safety nets, and guardrails may be required.
Unfinished roofs. More than 30% of falls in the construction industry are from roofs. Unfinished roads are especially dangerous. Roofs that are under construction have dangers such as unguarded edges of the roof, falls through openings, and falls along the leading edge of the roof.
Just because ladders are closer to the ground does not necessarily make them safer. Ladders need to be inspected frequently to ensure that they are in safe condition for use by workers. A fall off a ladder can cause serious injuries.
Construction falls are often preventable. The best course of action is to play it safe. Companies can prevent falls from heights by:
Planning ahead to do the job safely before even starting a job.
Providing the right equipment for working at heights.
Providing proper training so that workers can work safely on roofs, ladders, and scaffolds.
Contact a Personal Injury Attorney Today
Construction sites are notorious for serious accidents. Falls are especially common and fatal.
A Tampa construction accident attorney from Moore Law can help you with your case. We understand how dangerous construction jobs are and how devastating these injuries can be. Fill out the online form or call 813-510-5400 to schedule a free consultation.
Source:
wtsp.com/article/news/local/sarasotacounty/sarasota-construction-worker-fall-death-investigation/67-f22b799b-d868-49c5-ba50-6b8121bafa9c