Worker Injured in Deck Collapse in West Palm Beach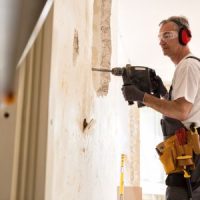 Construction workers often perform their job duties in hazardous conditions. Construction sites are notoriously dangerous, with electrical issues, falls, machinery issues, and other problems commonplace. In an instant, a building can collapse, causing workers to suffer serious injuries and even fatalities.
A recent deck collapse in West Palm Beach left a 65-year-old worker injured. Fortunately, the man was rescued by firefighters and was not too seriously harmed. The incident took place on the morning of June 15 on the 18th floor of a high-rise building located in the 300 block of Australian Avenue.
The worker was pouring cement when a portion of the deck collapsed. Firefighters were called to the construction site. They took a construction elevator to the 14th floor and then climbed to the roof deck on the 18th floor. They had all their gear together as they quickly went up the four flights of stairs.
However, once firefighters got to the 18th floor, there were safety issues. They discovered a lot of debris as well as wet cement and unstable railings.
Crews worked quickly to get the injured worker stable. They loaded him into a basket and secured him with ropes and harnesses. The basket was then attached to a large crane's hooks.
Stabilizing bags were used to ensure the basket didn't sway due to the wind.
The crane operator and safety officer from the construction team coordinated with rescuers to lower the man to the ground using the crane. A firefighter was also fastened to the basket and lowered down alongside the man. The worker was lowered safely on the ground and then taken to St. Mary's Medical Center for medical treatment.
Firefighters were relieved once the worker was stabilized and on his way to the hospital. Fortunately, the firefighters who performed this rescue were highly trained Technical Rescue Technicians who practice regularly for these types of rescues.
Clearwater Drive, which runs parallel to Australian Avenue, was closed in all directions as firefighters performed the daring rescue. The road reopened to traffic several hours later.
The injured man's family panicked when they heard the news but arrived at the accident scene as he was lowered to the ground. The worker sustained moderate injuries after the deck collapse, injuring his ankle and his back. He doesn't remember being lowered to the ground by firefighters, but he is thankful for their help and warns others to be aware of their surroundings.
Contact a Personal Injury Attorney Today
Construction accidents are often catastrophic. Fortunately, nobody was killed in this incident and the man was not seriously injured.
At Moore Law, we have close to 30 years of experience handling construction accidents and other types of personal injury. If you have been injured by someone else's negligence, contact a Tampa construction accident attorney. To schedule a free consultation with our office, call 813-510-5400 or fill out the online form.
Source:
wptv.com/news/region-c-palm-beach-county/west-palm-beach/construction-accident-at-high-rise-building-in-west-palm-beach-police-say