1 Injured In Florida Construction Accident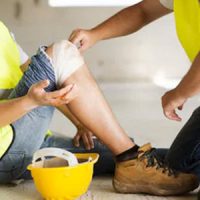 The construction industry is known for being dangerous. Heights, electricity, machinery, tools, and heavy materials are all elements that can cause serious accidents.
One person was injured in a construction accident in Wellington. The incident occurred on the afternoon of November 1 on 50th Street.
A construction crew was putting up a roof truss system on a project when it collapsed for unknown reasons, causing a person to get injured. Palm Beach County Fire Rescue responded to the scene. The injured person was airlifted to a trauma center. Their current condition is unknown.
What Causes Truss Collapses?
Truss collapses are often caused by a failure in either the top chord or the bottom chord. If a truss buckles or overturns, it is usually because of the failure of an adjacent truss or a problem with its bracing. A truss can weaken due to the load it carries.
A failure in one truss can lead to a domino effect. The collapse of one truss can cause the progressive collapse of the trusses next to it because the load is transferred to them through braces and bridges. This bracing and bridging are required for stability. They help keep the trusses from buckling and overturning.
Who is Liable?
A truss collapse is a dangerous event that can result in property damage, injuries, loss claims, and even legal action. There may be hundreds of thousands of dollars in damages. So who is responsible for paying these damages?
In many cases, a construction company may blame the truss manufacturer. It may be a situation where one party is blaming the other. In any case, you need to gather information and facts. Document as much as you can, since a lot of time will pass until you can present your case in court. Time passes and memories become hazy.
If the construction company claims to have installed the trusses properly, it will be up to the manufacturer to see for sure. They should get to the jobsite right away and see for themselves. The manufacturer should document the scene and take photos to help prove that their trusses were not defective. They should get as much documentation as possible to support the facts and release themselves from liability.
Nobody should rely on their insurance company to serve as their advocate. Insurance companies have one main goal: reduce claims expenses. When an insurance company pays out claims, it affects its bottom line. This means profits decrease. The insurance company is trying to protect itself. You should do the same.
Contact a Personal Injury Attorney Today
Construction sites are known for injuries and fatalities. Workers and those walking around the site can get injured by machinery, tools, and other elements.
Construction accidents can cause serious injuries. If you have been a victim, a Tampa construction accident attorney from Moore Law can help you with your case. Call our office at 813-510-5400 or fill out the online form to schedule a free consultation.
Source:
wpbf.com/article/florida-wellington-construction-accident/41836022#