Child Suffers Burn Injury From McDonald's Chicken Nuggets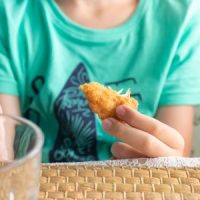 When your child asks for a Happy Meal while you're out and about running errands, you will probably oblige. After all, the combination of a yummy meal and a fun toy can be exciting for a kid. What's not exciting, though, is getting burned by the food in question.
This is what happened several years ago in Florida. After a toddler was burned by McDonald's Chicken McNuggets her family filed a civil lawsuit. A South Florida jury recently ruled in favor of the child. While her family was going through a McDonald's drive-thru in Tamarac, they bought a Happy Meal and drove off.  A nugget fell and became lodged between the 4-year-old girl's leg and car seat. This caused burns to her thighs.
The suit was filed in 2019 against McDonald's and the franchise owner, Upchurch Foods. The Fort Lauderdale jury said both parties were somewhat at fault for the burns caused by failure to properly warn customers or provide reasonable instructions on the possible harm from the hot McNuggets. However, only Upchurch Foods was found to be negligent. Jurors also found there was no inherent defect in putting McNuggets on the market and no breach of implied warranty.
The Chicken McNuggets inside of that Happy Meal were at an unreasonable and dangerously hot temperature. This caused the skin and flesh around the girls' thighs to burn, leaving her disfigured and scarred.
According to the lawsuit, the franchise should have known the nuggets were "unfit for human handling." The franchise should have adequately trained and supervised its employees. In addition, due to the extreme temperatures, the nuggets should not have been sold.
The case will go to a second trial to determine the amount of compensation the child's family should receive for their damages.
McDonald's disagrees with the verdict, although they have called the burn an "unfortunate incident" and claim that customer safety is a top priority. The restaurant follows strict rules when it comes to food safety. Upchurch Foods claims that the Tamarac location did follow safety protocols.
This is not the first time McDonald's has been accused of serving too-hot food. You may remember the hot coffee lawsuit from the 1990s, when a woman went through a drive-thru and spilled coffee on her lap. She suffered third-degree burns as a result. A jury agreed that the coffee was unreasonably hot and she was initially $3 million, but received less after an appeal.
Contact a Personal Injury Attorney Today
Buying freshly prepared food comes with a risk. If a restaurant is negligent, it could serve food at scalding temperatures. This could lead to burns and other injuries.
Burn injuries can result in expensive medical bills. Get the help you need from a Tampa burn injury attorney from Moore Law. Schedule a free consultation today by filling out the online form or calling 813-510-5400.
Source:
cnn.com/2023/05/12/business/mcdonalds-chicken-nuggets-burn-lawsuit/index.html