Nursing Home Patient Abused Over Request for Ice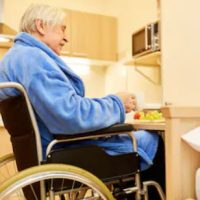 Patients in nursing homes are there for a reason. They are often physically and/or mentally disabled and unable to do many tasks on their own. They may need help with feeding, dressing, combing their hair, and using the restroom. It is the staff's responsibility to take care of these needs. That's what they are paid to do.
So when a patient asks for ice, they shouldn't have to worry about being abused just for asking a question. Unfortunately, this is what happened at a nursing home in Palm Harbor. An employee pushed down a patient, causing the employee to be arrested and fired from the nursing home.
The incident happened on May 24 at Orchid Cove in Palm Harbor. The patient, who is close to non-verbal, requested ice from the staff member, a 51-year-old certified nursing assistant. The staff member brought the patient a cup with ice water. The patient followed the staff member, requesting ice. That was when the nursing assistant grabbed the cup from the patient and crushed it, causing water to spray all over the patient. She then pushed the patient to the ground, causing minor injuries.
A staff member who witnessed the altercation told the patient to "go ahead, hit me." Pinellas County police deputies arrested the woman and she admitted to the events. However, she claimed that she pushed the resident in the chest even though the resident did not threaten her at all. The woman was terminated from her position at the nursing home.
What Causes Nursing Home Abuse? 
There are many reasons why nursing home abuse may occur. They include the following:
Staffing shortages. Nursing homes often hire the bare minimum number of people in order to cut corners and save money. When staffing is minimal, employees become overworked and this can cause them to make mistakes such as neglect patients and get angry at them.
Lack of staff training. When staff members are not properly trained, they may not know how to handle patients. They need to know how to care for them and handle their behavior, which can be erratic, especially with dementia patients.
Underpaid staff. When staff members are underpaid, they may be angry and resentful. They may then take out this anger on patients. Higher pay makes for happier employees.
Poor supervision and management. Management needs to take an active role in hiring and supervising staff members. When there is no accountability, employees may feel as though they do what they want, since they will get away with it.
 Contact a Personal Injury Attorney Today
Sadly, any resident of a nursing home facility can be abused. When workers are careless or reckless, patients can suffer physical or mental injuries.
If your loved one has been affected, get the legal help you need. A Tampa nursing home abuse attorney from Moore Law can assist you. To schedule a free consultation, call 813-510-5400 or fill out the online form.
Source:
wtsp.com/article/news/local/pinellascounty/nursing-home-employee-arrested-orchid-cove-abuse-disabled-adult-charge/67-bece381f-af23-4e67-9755-342e67255e3a