Head Trauma: What You Need To Know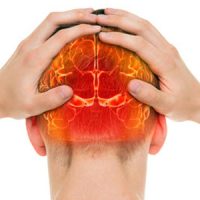 On January 9, fans were shocked to hear about the death of TV star Bob Saget, who rose to fame in the 1980s as an actor on the sitcom "Full House." Also a popular stand-up comedian, Saget was in Florida performing shows when he died in his sleep while staying at the Ritz-Carlton Orlando.
At first, it was believed that Saget suffered some sort of sudden medical event, such as a stroke. However, a medical examiner recently announced that Saget had actually died from head trauma. While we won't ever know exactly what happened, it is alleged that he must have somehow hit the back of his head and then went to sleep, without thinking anything of the incident. He then died as he was asleep.
While fatal incidents like this are rare, they do happen. To understand why, you have to look at the anatomy of the brain. There are numerous blood vessels inside a closed space. With a soft brain and a hard skull, a blow to the head could cause bleeding. Even a little bit of bleeding can cause compression on the brain. Unfortunately, this can sometimes be fatal.
When people hear about traumatic brain injuries, they associate them with the military or sports, but these injuries can happen in many other ways, such as car accidents, slips and falls, and other everyday settings.
People don't take head injuries seriously; it's common for them to minimize the effects. They may downplay a bad headache. They may take the wait and see approach, but then something catastrophic happens.
However, not every blow to the head requires an ER visit. If you're not sure, consider the force of the impact. Something as significant as a car accident should be taken seriously, so you should see a doctor for something like that. Accidentally bumping your head on a cabinet? Probably not.
How someone feels after a head injury is another factor in determining if they need medical care. A persistent or worsening headache should not be ignored. Nausea, vomiting, and memory loss are also signs that you should see a doctor as soon as possible.
Still not sure? Err on the side of caution. It's your brain at stake, so take it seriously. You may not want to deal with the hassle of going to the emergency room, but it could be your life at stake.  Take the time to get your head checked out. It's better to be safe than sorry.
Contact a Personal Injury Attorney Today
Head trauma is a serious medical issue. Even if you think your injury is minor, it's best to seek medical attention. It could be more serious than you think.
Have you suffered damages due to head trauma caused by another person's negligence? A Tampa traumatic brain injury attorney from Moore Law can help you pursue a personal injury claim against the liable party. Schedule a free consultation by calling 813-510-5400 or filling out the online form.
Resource:
abc13.com/bob-saget-death-traumatic-brain-injury-head-trauma-symptoms/11551800/