Pedestrian Killed In Crash On Dale Mabry Highway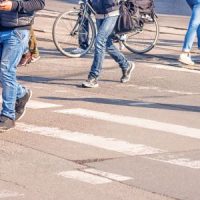 Car crashes happen quite often, especially on busy roads. Many of these accidents involve pedestrians, resulting in fatality.
A recent crash in Tampa has killed a pedestrian. The fatal accident happened on the morning of February 17 on Dale Mabry Highway. A pedestrian was crossing the highway when he was hit by a vehicle turning onto Humphrey Street.
The man was taken to a local hospital, where he later died. The driver was a 33-year-old man from Tampa. It is unknown if he will face any criminal charges.
What to Know About Pedestrian Accidents
Pedestrians have no protection in the event of a crash. Because of this, pedestrians are 1.5 times more likely than occupants of motor vehicles to die in an accident. Thousands of pedestrians are killed in crashes every year. In Tampa, pedestrian accidents are common and may be caused by distractions. Distracted driving and distracted walking are common issues, with more and more people focusing on their phones instead of the roads. Pedestrians can be hard to notice while in a fast-moving vehicle, and taking your eyes off the road for even a couple seconds can lead to disaster.
Running red lights, stopping in the middle of intersections, and pulling out of parking lots and driveways without looking are also issues. When vehicles do not yield the right of way to pedestrians, it can lead to serious crashes.
While anyone can be killed in a pedestrian accident, there are several factors that can cause a person to face a higher risk. They include the following:
Children and the elderly are at risk of being involved in a pedestrian crash. Pedestrians over the age of 65 account for 20% of pedestrian deaths, as do children under the age of 15.
Alcohol use. Alcohol use causes the risk of a pedestrian accident. In fact, almost half of fatal pedestrian accidents are caused by alcohol use by either the pedestrian or driver.
As the saying goes, speed kills. When you're speeding, you could kill yourself or someone else. It's harder to slow down when you're driving so fast.
A deadly pedestrian crash is most likely to occur in urban areas rather than rural areas. Also, a pedestrian is more prone to getting into an accident when crossing at an area other than an intersection. That's because drivers are not usually expecting pedestrians in random areas.
Time of day. Visibility is reduced at night, making it harder to see pedestrians. This is when accidents are more likely to happen.
Contact a Personal Injury Attorney Today
Pedestrians and vehicles don't mix. Due to a lack of protection for pedestrians, getting hit by a car can result in a serious injury or even death.
Have you suffered damages due to a pedestrian accident? A Tampa pedestrian accident attorney from Moore Law can help you. We know what your case is worth. To schedule a free consultation, fill out the online form or call 813-510-5400.
Resource:
wfla.com/news/hillsborough-county/pedestrian-hit-killed-on-dale-mabry-highway-in-tampa/