Pedestrian Killed in Crash on Dale Mabry Highway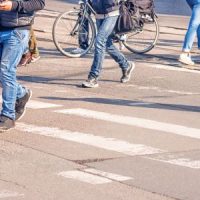 While the roadways are supposed to support motorists, pedestrians, and others, the motorists often prevail. If there is someone in the road, it can be hard for cars to slow down in time to avoid a crash.
This is especially true on busy highways. When motorists are traveling at high speeds, pedestrians don't have a chance. Sadly, this was recently the case in Tampa, when a car hit a man, killing him. The fatal accident occurred on the morning of August 22 at W. Kensington Avenue and S. Dale Mabry Highway.
A man was hit by a car at the intersection. Paramedics performed emergency treatment on the man but he died from his injuries.
Dale Mabry Highway was closed in both directions between W. El Prado Boulevard and W. Euclid Avenue. Drivers had to take alternate routes.
The driver of the vehicle remained at the accident scene. The Tampa Police Department is investigating the accident.
Fatal Pedestrian Accidents
Pedestrian deaths can happen anywhere, but they occur primarily in urban areas. Since 2009, pedestrian motor vehicle crash deaths have increased 80% and account for 17% of accident fatalities. Those between the ages of 20 and 69 years old have the highest rates of pedestrian deaths.
There are many things that can reduce this problem. Improved engineering measures are one of them. Sidewalks, overpasses, underpasses, and barriers are structures that can separate vehicles and pedestrians. Increased illumination and improved signal timing at intersections can also be effective. High traffic speeds can increase the severity of pedestrian crashes, so reducing speeds can lower pedestrian deaths as well.
Vehicle factors can also do their part to reduce pedestrian accidents. Pedestrians often hit vehicle bumpers, hoods, or windshields. Common injuries include serious injuries to the head, legs, and pelvis. Improved vehicle design can help mitigate these injuries. In addition, some vehicles have crash avoidance technologies that can detect pedestrians and even automatically brake prior to impact.
Pedestrian deaths occur primarily in urban areas. Engineering measures that separate vehicles and pedestrians, such as sidewalks, refuge islands, overpasses and underpasses, and barriers, can reduce the problem. Increased illumination, improved signal timing at intersections, and beacons that alert drivers to stop at crosswalks when pedestrians are present also can be effective. Because traffic speeds affect the risk and severity of pedestrian crashes, reducing speeds can lower pedestrian deaths.
Contact a Personal Injury Attorney Today
Highways and other roads where high speeds are common are not good places for pedestrians. People who need to cross the road should do so safely, at intersections and crosswalks.
If your loved one was injured or killed in a pedestrian crash, see how a Tampa pedestrian accident attorney from Moore Law can help you. We'll guide you through the legal process and help you get full and fair compensation. Schedule a free consultation today by calling 813-510-5400 or filling out the online form.
Source:
fox13news.com/news/pedestrian-hit-killed-on-dale-mabry-highway-tpd