What is Considered Distracted Driving in Florida?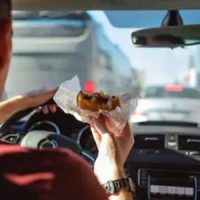 When you think of distracted driving, texting while driving may come to mind. However, there are other things that may be considered distracted driving. But what exactly?
When you get into a car, do you have to sit with your hands on the wheel the entire time? If you take one hand off to get a drink or change the radio station, is that considered distracted driving?
It can be hard for drivers to know. It would be impossible for there to be a law about everything you should not do while driving, so let's see what a Florida Highway Patrol trooper says. Trooper Steve Montiero was recently asked, "What does Florida law say about eating, putting on makeup, or even shaving while driving?"
The trooper responded, saying that as a law enforcement officer, he never would have thought he would have to tell someone that putting on makeup or reading a map while driving is unsafe. But apparently people need to be reminded.
Florida Statute 316.1925 covers the topic of careless driving. The law indicates that a driver shall drive carefully and in a prudent manner. This can seem vague, though. What is considered careful? What is considered to be a distraction?
The trooper calls Florida Statute 316.1925 a common sense law. Drivers should not have to be reminded that applying a full face of makeup while cruising down the roadway is not a safe practice. They should also not have to be told to stop their vehicle before hitting the vehicle in front of them.
Given this, careless driving cannot be defined as one thing. It is not a clear-cut situation. Instead, it needs to be looked at as an overall situation.
For example, a driver who is eating something while driving and still maintaining control of their vehicle would not be considered careless. However, if the driver decided to use both hands to eat a burger while cruising, this could be considered careless. This is a frustrating situation to deal with. Driving is considered to be the most dangerous thing we do every day, so we should be 100% focused.
Manual distractions can be very dangerous because you're not in full control of your vehicle. Common manual distractions include the following:
Using your phone
Changing the radio station
Eating or drinking
Smoking
Adjusting the vehicle's thermostat
Grabbing something from your purse or wallet
Removing a sweater or jacket
Contact a Personal Injury Attorney Today
When driving, you need to stay focused. Eating, applying makeup, and engaging in other actions while behind the wheel is never a good idea. It could lead to serious crashes.
If you were injured by a distracted driver, see how a Tampa distracted driver accident attorney from Moore Law can assist you. We have nearly 30 years of experience with personal injury cases. Let us help you fight for the compensation you deserve. Schedule a free consultation today by calling 813-510-5400 or filling out the online form.
Source:
clickorlando.com/traffic/2023/08/24/ask-trooper-steve-can-you-eat-put-makeup-on-or-shave-while-driving/