1 Killed, 2 Injured in Dump Truck Crash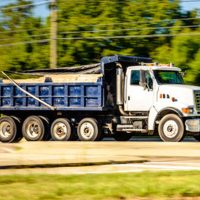 When a dump truck and passenger vehicle collide, the result is often catastrophic. These two vehicles have extreme size differences that can lead to fatal crashes.
Sadly, this was recently the case in Tampa. A man was killed and two others were injured in a dump truck crash. The fatal accident occurred on the morning of September 20 on Interstate 4.
The Tampa Police Department responded to a crash involving a Scion sedan and dump truck at the intersection of Interstate 4 and E Columbus Drive. The two vehicles collided under the overpass after the Scion failed to stop at a red light at the off ramp. That was when the dump truck collided with it.
Officers found a 25-year-old man dead in the front passenger seat of the Scion. They attempted lifesaving measures on the man. He was taken to a local hospital, where he later died.
The driver and backseat passengers of the Scion suffered non-life-threatening injuries and were taken to a local hospital for treatment. The driver of the dump truck was not injured. The driver of the Scion has been accused of drinking and driving. They are facing DUI manslaughter charges for their role in the crash.
Dangers of Running a Red Light
A red light means stop, but many drivers keep on going through the intersection. This is a dangerous act that can lead to various consequences, such as the following:
It's illegal. When you run a red light, you may face a simple traffic citation, a moving violation, or even a manslaughter charge if you kill someone. You may lose your license or face jail time.
You could cause a crash. Running a red light usually results in a T-bone accident, in which the front of a vehicle hits the side of another. These crashes can be dangerous because the sides of vehicles do not have much protection.
You could lose your insurance. Your insurance premium will likely go up after running a red light. If your insurance company thinks you're too much of a risk, they may drop you altogether.
You put your life and property at risk. When you run a red light, you knowingly put yourself and others at risk of an accident. You are at risk of sustaining severe injuries, damaging your car, or losing your life. Innocent people are often killed by this behavior. Running a red light is not worth it. Be safe and stop rather than running through.
Contact a Personal Injury Attorney Today
Auto accidents can be caused by various factors, including the negligence of other motorists. Running a red light can result in fatality, as seen in this case.
A Tampa car accident attorney from Moore Law can assist you if you have been a victim of a crash. Get the compensation you deserve. Get Moore. To schedule a free consultation, call 813-510-5400 or fill out the online form.
Source:
fox13news.com/news/dump-truck-crash-overpass-dui-manslaughter-charges-fatal