Man Killed In Panama City Pedestrian Accident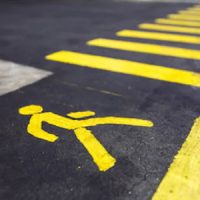 It can be scary for pedestrians to walk around Florida. Busy roadways make it hard for people to cross roads safely. In some cases, they can get hit by a car and killed.
Sadly, this was recently the case in Panama City. A pedestrian was killed in an accident on the evening of April 20 at Annie Lee Brock Road and Highway 77. A 52-year-old man attempted to cross the intersection when he was hit by a pickup truck. The pedestrian was killed in the crash. The driver was not injured.
It is unknown if the pedestrian was in the road or on the side of the road at the time of the crash. The cause is under investigation.
Causes of Pedestrian Accidents
A pedestrian can get into a crash in a variety of ways. Most of these crashes are caused by negligent drivers hitting pedestrians. Even if pedestrians are walking in marked crosswalks and obeying traffic laws, they can still get hit by drivers who are not paying attention. The most common reason why drivers are not paying attention is that they are distracted. They are paying more attention to their phones than to pedestrians. They are using their devices for texting, making calls, navigation, and playing music.
Failure to stop at stop signs or traffic lights is another common reason. So is speeding, as drivers seem to be in a hurry.
Some other common reasons for pedestrian accidents include:
Failure to yield. Almost all failure to yield accidents are caused by negligent drivers. Pedestrians have the right-of-way when using a marked crosswalk. The rule for drivers is to stop and stay stopped whenever the pedestrian is entering the crosswalk or already in it. While it is not necessarily illegal for pedestrians to cross in the middle of the street, they have the burden to do so safely.
Drunk or drugged driving. It is also common for drivers to be under the influence of a substance while hitting a pedestrian. People often underestimate the effect of alcohol. Just one alcoholic beverage can reduce a driver's ability to react to road hazards to avoid a crash. After just four drinks, a man of an average weight would be considered legally impaired (having a BAC of .08 or higher). For a woman of an average weight, that drops to just three drinks. Even just two drinks can reduce judgment, impair coordination, reduce ability to detect moving objects, and dull alertness.
Weather conditions. Drivers must travel at a speed that is safe, even if it is lower than the actual speed limit. Weather conditions can make it harder to see. Fog and rain can reduce visibility, causing a driver to hit a pedestrian.
Contact a Personal Injury Attorney Today
Pedestrian crashes can result in serious injuries. After a pedestrian accident, you'll need an experienced lawyer to be sure you receive the appropriate amount, whether through an out-of-court settlement or a jury verdict at trial. A Tampa pedestrian accident attorney from Moore Law can help. Fill out the online form or call our office at 813-510-5400 to schedule a free consultation.
Source:
mypanhandle.com/news/local-news/fhp-investigating-fatal-pedestrian-crash-on-highway-77/