Tampa Man Killed While Crossing Interstate 75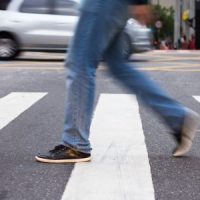 After a breakdown on the roadway, drivers need to practice safety first. They may be tempted to run across the road and get help, but that is rarely a good idea, especially on a busy roadway early in the morning. Drivers on freeways and interstates are not looking for pedestrians, so seeing someone on foot can catch them by surprise.
Sadly, a man was killed after running across the interstate when his car broke down. He was hit by not one, not two, but three vehicles. The fatal crash occurred on the morning of October 27 on Interstate 75 in Tampa.
A 41-year-old man from Tampa and his 20-year-old son were on the shoulder of southbound I-75. near State Road 56, after their car broke down. The father tried to run across the road but was hit by three vehicles. The man died at the accident scene.
The three vehicles have been identified as follows:
Van driven by a 66-year-old man from Inverness
SUV driven by a 54-year-old man from Brooksville
Pickup truck driven by a 54-year-old man from New Port Richey
All three drivers remained at the accident scene. The accident shut down the southbound lanes of I-75, causing slowdowns for nine hours. Drivers had to use the shoulder to get around the crash.
What to Do If Your Car Breaks Down
If your car breaks down while on the road, the first thing you should do is turn on your hazard lights. They will warn other drivers so they hopefully won't hit you. Try to pull off the road as far as possible. It's also a good idea to put on your parking brake so your car doesn't accidentally roll into the road.
If you're on a highway or other busy road, it's recommended that you stay inside your vehicle. If you must get out of the vehicle, do not do so until it is clear and safe to do so.
Set up flares and triangles behind your vehicle, if you have them. Also, prop up your hood to alert others that you are broken down.
Next, call for help. If you have roadside assistance, call the company. You can also call for a tow truck to assist you. If you're injured, call 911. If you're not sure who to call, the local police is a good first step.
Contact a Personal Injury Attorney Today
Drivers need to be careful after their vehicle breaks down. It's best to stay inside your vehicle and call for help rather than try to cross a busy interstate or highway.
A person who is on foot faces a lot of dangers on the roadway. If you have been a victim of a crash, a Tampa pedestrian accident attorney from Moore Law can help. We do what we can to get the most for our clients in need. Schedule a free consultation and get Moore. Call our office at 813-510-5400 or fill out the online form.
Source:
wfla.com/news/pasco-county/fatal-crash-causing-traffic-backups-on-i-75-south-in-pasco-county/