Reducing Emergency Room Errors Involving Children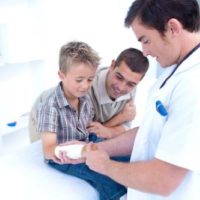 Paramedics and emergency room doctors have to be prepared for medical emergencies. They need to be ready to treat people of all ages. However, medical issues are more common among adults, particularly older ones. What this means is that younger patients do not always get the best care.
The most common pediatric emergencies involve fever, trauma, injury, respiratory distress and infections, diarrhea, and vomiting. These can all be scary situations for not only the children but their parents as well.
Pediatric emergencies account for 1-3% of cases for paramedics. This is good news in that respect, but the trouble is that the error rate for administering drugs is a whopping 31%. That's because pediatric emergencies are hard for doctors to train for. They are that rare.
To deal with this lack of training, researchers and doctors from Western Michigan University Homer Stryker M.D. School of Medicine are developing simulators to help with these discrepancies. The team received a $1.37 million grant from the United States Department of Health and Human Services to conduct their research.
So far, the Microsoft HoloLens 2 has been created to help crews run through several simulated cases to get an idea of what to expect. The device goes on a person's head. It has cameras on the outside that launch an application and read the environment. It's like a science fiction helmet.
An app is expected to be developed with the helmet by 2027. It would provide a checklist of steps for paramedics to take when they are dealing with a pediatric emergency.
The HoloLens could be a major game changer. The functionality of the device and the cameras could allow it to actually look at the drug and confirm that it is the correct drug for the patient's medical condition. It could also be used to confirm the dose that's in a syringe, which would be very helpful to a doctor or paramedic who needs to act quickly to save a child's life. Medication dosing for children is difficult. For adults, it's standard. For children, it's based on weight. This means that in an emergency situation, the child needs to be weighed or the doctor has to ask the parents for an approximate weight. Then the doctor needs to do math or have some kind of calculation every single time. This is difficult to do when a doctor is in a stressful situation, and this is what causes errors to occur.
Contact a Personal Injury Attorney Today
While it's good that pediatric emergencies are rare, the issue is that doctors do not always have a lot of training when it comes to dealing with children. This means errors are more likely to occur.
Have you or your child received inadequate medical care in an emergency room? If so, seek legal help from a Tampa emergency room error attorney from Moore Law. We can assist with physical and financial recovery. To schedule a free consultation, fill out the online form or call 813-510-5400.
Source:
fox17online.com/news/local-news/research-team-hopes-to-reduce-errors-in-pediatric-emergency-care