Man Crushed To Death On Florida Construction Site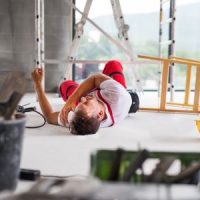 Construction sites are known for being dangerous. There are numerous risks involved in this industry. Because of this, many people are injured or killed while working on various buildings.
Sadly, this happened to a man who was crushed to death while using a porta-potty on a construction site. The fatal accident happened on the afternoon of March 4 at North Central Landfill in Winter Haven in Polk County.
The 43-year-old man was working as a traffic control contractor. He was using the porta-potty when a bulldozer ran over it, crushing him inside. The driver heard a crumbling noise and immediately got off the bulldozer. He opened the porta-potty to see if anyone was inside and that was when he found the man inside unresponsive. The man died from his injuries.
The bulldozer driver was driving up an embankment to park it for the night. He could not see that he had run over the porta-potty because the front blade was lifted up too high.
The Occupational Safety and Health Administration (OSHA) was immediately called to the accident scene. Before the accident, the victim was working as a spotter at the construction site, directing the flow of trucks in the landfill. He was employed at the job site through the company called CertiTemp. The man's death was the only death at the landfill in its history.
Common Construction Accidents
Porta-potty accidents are not very common. However, there are some common construction accidents you should be aware of, such as the following:
Construction workers often work from roofs, scaffolding, and ladders, and falls from these high places are common. In fact, they cause most construction accidents.
Construction often involves electrical systems. Exposed wires, electrical outlets, and downed power lines can electrocute workers.
Machinery accidents. Construction workers regularly operate dangerous machinery, such as tractors, cranes, jackhammers, and power tools. All can cause serious injury.
Getting hit by a vehicle. This is a common accident on construction sites. This usually happens on freeways in construction zones when speeding or distracted drivers hit construction workers.
Getting trapped. Workers can get trapped between walls, machines, and materials, causing broken bones, internal injuries, and other crush injuries.
Trench or ground collapses. Trenches are often needed for building sites. These excavations can cause the ground to become unstable. The dirt can collapse on nearby workers, suffocating them.
This is common in the summer months. When construction crews work long hours in the heat and humidity, they can suffer from medical issues such as dehydration, fainting, and heat stroke.
Contact a Personal Injury Attorney Today
Construction accidents can cause serious injuries and death. It is important that workers follow proper safety precautions.
Injured on a job site? Seek legal help from a Tampa construction accident attorney from Moore Law. We can help you get the compensation you deserve. Schedule a free consultation with our office by calling 813-510-5400 or filling out the online form.
Resource:
newsweek.com/florida-man-crushed-death-bulldozer-while-using-porta-potty-1685336