Neck Injuries: Types And Causes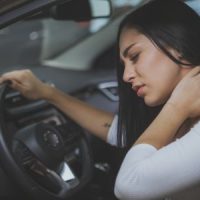 All the muscles, tendons and bones in the neck allow us to move our heads freely. We take this for granted until we suffer an injury and the neck feels tight. Maybe it hurts to move your neck. It's hard to turn your neck to drive or pick up an object. You may even experience muscle spasms.
There are a wide range of neck injuries. They can be caused by many factors, but the most common are trauma and repetitive movements. Read on to learn more about neck injuries.
Types of Neck Injuries
A neck can be injured in many ways. Here are the most common types of neck injuries:
Neck sprain or strain. A sprain is when ligaments in the neck are torn. A strain refers to a torn tendon or muscle. These can happen during physical activity or through a car accident.
Stiff muscles and tendons. A crick in the neck, or stiffness, can be caused by an awkward movement or by keeping the neck in the same position for a long period of time, like during sleeping.
Pinched nerve – Bone, tissue or tendons can push against surrounding nerves after a muscle sprain or strain.
Herniated disc. When a spinal disc becomes torn and the jellylike interior leaks or bulges out of the disc, this is known as a herniated disc. They are most commonly caused by wear and tear or a sudden injury, such as a fall.
Fractured cervical spine. Also known as a broken neck, this requires immediate medical attention.
Causes of Neck Injuries
Some people injure their neck just by sleeping on it wrong. Then there are those who injure it due to someone else's negligence, such as:
Falling from heights. Workers at construction sites are especially at risk of falling from on a ladder or scaffolding.
Medical malpractice. Medical professionals must meet a standard of care. Anything less could amount to negligence. If you suffered a neck injury due to a doctor's negligence, you could have a viable medical malpractice claim.
Car accidents. The impact from a car accident can cause whiplash, or a jerking movement in the neck that leads to soft tissue injuries.
Pool accidents. Hot tubs and swimming pools are other sources of neck injury. Someone could dive into the water head first or trip, slip, or fall and seriously injure their neck.
Defective equipment. When exercise equipment is faulty, it could cause neck injuries.
Poorly designed furniture. Workplace furniture that is poorly designed could cause neck injuries.
Sports. An injury while playing contact sports, such as football, can affect the neck.
 Contact a Personal Injury Attorney Today
Neck injuries can be debilitating. They can cause mobility issues and last a long time, causing many damages.
A Tampa neck injury attorney from Moore Law can help you pursue a personal injury claim. We'll help you get Moore compensation. To schedule a free consultation, fill out the online form or call 813-510-5400.
Source:
trihealth.com/institutes-and-services/trihealth-orthopedic-and-sports-institute/what-hurts/neck-and-back/common-neck-injuries