Pool Safety Tips For Homeowners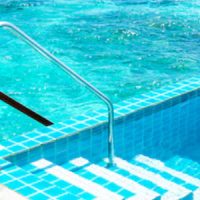 It's summer and you're likely enjoying the hot weather in Florida. If you have a swimming pool, you may be planning outdoor parties. While swimming is a great way to stay cool, pools do come with some risks.
Drownings, slips and falls, diving injuries, poor lighting, and drain entrapment are just some of the accidents that swimmers can face. Tens of thousands of people are injured in pool-related accidents every year.
If you're a property owner with a swimming pool, you'll want to understand your legal responsibilities. You could be held liable for any injuries that occur, so you want to keep your pool and the surrounding areas as safe as possible. Here are some tips to keep your family and guests safe.
Keep Non-Swimmers Safe
If you know a child or someone else doesn't know how to swim, make sure they wear a life jacket when near or in the pool. Ideally, you should keep them out of the deep end of the pool as well just to be safe. New swimmers should be supervised by someone who can perform CPR. All children should be supervised at all times, even those who know how to swim.
Keep Life-Saving Items in Pool Area
You should have easy access to items that can be used to save someone who is drowning. For example, you should have a rope with a ring attached to it, as well as a rescue hook or pole.
Keep Dangerous Items Out of the Pool Area
There are some things you should keep away from the pool. These include bottles, glass, cleaning products, and toys (unless they are meant for swimming pools, such as floats, rings, balls, and diving toys). Electronics such as phones, tablets, and computers should also be kept out of the pool area.
Be Wary of Drunk Guests
If you serve alcohol at your party, be aware of drunk guests trying to get into the pool. Alcohol and water don't mix. In fact, 70% of water-related deaths involve alcohol. Even a good swimmer who has had too much to drink can suffer from impaired motor skills and a lack of coordination, which are not good things to have while swimming. Your intoxicated guests have a higher risk of drowning, so be vigilant.
Keep Your Pool Secure
You don't want children getting into your pool unattended. Fencing with a self-locking gate and alarm can keep children out and warn you if anyone is getting into the pool area. The fencing should also be narrow enough so that children cannot squeeze through.
Contact a Personal Injury Attorney Today
Swimming pools can be fun in the summer, but they pose a lot of dangers, especially for young children and others who don't know how to swim. Injuries can also occur without being inside the pool.
If you have been injured at a pool on someone else's property, a Tampa premises liability attorney from Moore Law can help you file a claim against the liable party. Schedule a free consultation by calling 813-510-5400 or filling out the online form.
Source:
worldinsurance.com/blog/16-pool-safety-tips-every-homeowner-should-know