Worker Killed In West Palm Beach Construction Accident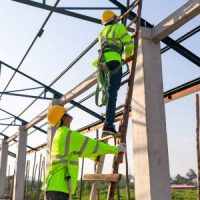 One of the biggest causes of construction-related deaths is falls. Buildings can be many feet tall, especially high-rises, which are considered to be at least 75 feet tall. When a construction worker falls from such a height, the most common result is fatality.
Sadly, this was what recently happened in Florida. A woman was working for a flooring contractor when she fell 11 stories, from the 13th floor to the second floor. This is more than a 100-foot drop.
The fatal accident occurred on the afternoon of May 28 at a condo located at 1515 S. Flagler Drive in West Palm Beach. The woman died at the accident scene.
La Clara is the developer of the building, which measures 25 stories high, or 240 feet tall. The victim, from Miami-Dade County, worked for a subcontractor, Jovavesa Corp., which is based out of Miami.
The death is being investigated by the Occupational Safety and Health Administration (OSHA) and the West Palm Beach Police Department. The investigation has been challenging, since nobody observed her falling. However, there were workers who saw the fall out of their peripheral vision, so that is what detectives are going off of, since there is also no surveillance video of the fall.
Investigators are also investigating whether or not the construction company had workers' compensation insurance. It is required in the construction industry for one or more employees. They are also determining if the worker had safety equipment. What was she doing at the time of the accident? Was she supposed to be there? These are questions that need to be answered.
Falls in Construction
Falls are the top cause of fatalities in the construction industry. While falls are an issue in many industries, construction has the most, representing 51% of falls in the United States. The most common causes of falls are support giving way, lack of guardrails, lack of fall protection, and insufficient worker training.
There are some ways in which construction companies can help prevent falls and keep their workers safe. Ideally, they should provide working environments free of dangers. This is not always possible, but advance planning can be very helpful. Supervisors should come up with ways to stay safe at all times. The right equipment can also be helpful. Harnesses and other fall protection can keep workers from falling, saving their lives. When working on heights, ladders and scaffolds are often used. Managers should properly train workers on how to use this equipment safely.
Contact a Personal Injury Attorney Today
Unfortunately, construction sites can be very dangerous. As seen in this case, they can even be deadly for workers.
A Tampa construction accident attorney from Moore Law can assist you with your construction case. If you or a loved one has been injured or killed, come discuss your case with us. We'll work hard to get you the compensation you deserve. To schedule a free consultation, fill out the online form or call 813-510-5400.
Source:
wpbf.com/article/worker-falls-to-death-from-west-palm-beach-building/40133042