6 Injured When Truck Crashes Into Daycare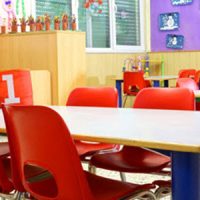 We often hear about incidents in which a driver mistakes the accelerator for the brake, causing their vehicle to crash into a building. This recently happened in Florida, causing six people to get injured.
The incident happened at a daycare facility in Clearwater. Three adults and three children were injured when a grandmother picking up her grandchild lost control in the parking lot. A mother and her three children were hit and a portion of the building was damaged.
The crash occurred on the evening of June 13 at Building Blocks Children's Center, located at 1112 Lakeview Road. A 57-year-old woman was in her pickup truck when she saw a child in front of her and tried to stop suddenly. Instead, she hit the accelerator and lost control. She hit a mother and her three children, ages 2, 3, and 5. She also crashed into the building and injured a daycare staff member.
The three children were taken to All Children's Hospital for medical treatment. Their mother was hospitalized at Bayfront Health St. Petersburg. The daycare staff member was taken to Mease Dunedin Hospital, while the driver of the pickup truck was transported to Largo Medical Center. Nobody suffered life-threatening injuries.
Firefighters shored up the portion of the daycare building that was damaged by the truck. The city's building department later performed an inspection of the building. The woman driving the truck received a citation for careless driving.
Mistaking the Accelerator for the Brake
Motorists need to pay attention while behind the wheel and set up their seat properly so they are comfortable. These actions will help them prevent what is known as pedal error. This is when the driver mistakes the accelerator for the brake. According to the National Highway Traffic Safety Administration (NHTSA), this issue happens quite often, resulting in approximately 16,000 crashes every year in the United States.
Pedal error causes a vehicle to accelerate suddenly, which increases the risk of a crash. The vehicle is more likely to cause damage to nearby buildings, other vehicles, and other objects, such as trees and poles.
Pedal error often occurs in a confined area where the driver has to react quickly to avoid a crash. It is common in situations where the motorist is driving slowly but likely to need to stop, such as pulling into a parking space or driveway, at intersections, and at highway exit ramps. It could also happen in stop-and-go traffic.
Contact a Personal Injury Attorney Today
Driving a vehicle requires not only skill, but attention as well. Using the accelerator instead of the brake is a common mistake, but it's one that can cause serious damage to buildings, as well as injuries and death.
When these accidents happen at daycare facilities, the innocent lives of children are at stake. If your child has been affected, contact a Tampa daycare accident attorney from Moore Law right away. We'll hold the negligent party accountable for their actions. Schedule a free consultation by filling out the online form or calling 813-510-5400.
Source:
patch.com/florida/clearwater/3-toddlers-3-adults-hospitalized-following-accident-day-care