Avoid Distracted Driving During The Holidays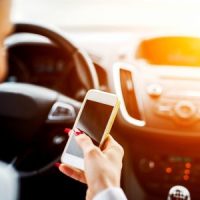 Many Florida residents enjoy the Christmas holiday, but it can be stressful for travelers. More than 100 million people are on the roads during the holidays. This means that car accidents are more likely to occur. And given that drivers are likely to multitask as they get from Point A to Point B, you can bet that there are a lot of distracted drivers on the streets.
Distracted driving accidents tend to increase during the holiday season. In fact, Christmas and New Year's Day are the most dangerous days to drive. That's because we're busy, whether we're doing last-minute shopping, planning Christmas dinner, looking at sales ads, texting, or calling family members—all while driving.
But those aren't the only distractions. Reading, changing the radio station, grooming, eating, and dealing with pets and kids can also cause us to lose focus while behind the wheel.
Distracted driving is more dangerous this time of year, as rain and snow falls in various parts of the country. Icy roads can cause your vehicle to slip and slide across the road, causing a serious accident.
Why is Distracted Driving So Dangerous?
Distracted driving takes a driver's hands off the wheel, their eyes off the road, and their mind off the action of driving. Sending a text takes a driver's focus off driving for approximately five seconds. While this may not seem like a long time, it's like driving an entire football field with your eyes closed. This is enough to get into a crash and seriously injure or kill someone.
Drivers who are distracted find it difficult to drive properly. They may weave in and out of lanes. They could rear-end vehicles in front of them. They may fail to stop at red lights or stop signs. These distracted drivers could also run over pedestrians and bicyclists. Even when the driver is done texting or dealing with their distraction, it can take them a few more seconds to focus their attention on driving.
Staying Safe
The best thing you can do while driving is focus on the road. Here are some other ways to stay safe:
Increase the distance between yourself and other vehicles.
Keep an emergency kit in your car.
Keep your tires properly inflated.
Make sure your windshield wipers are working properly.
Avoid using cruise control.
Turn on your headlights.
Turn off your phone.
Don't drink and drive.
Avoid speeding and reckless driving.
Pull over if you get overly tired.
If you need to use your phone, pull over in a safe place. 
Contact a Personal Injury Attorney Today 
Distracted driving leads to thousands of deaths in the United States every year. If you or a loved one has been a victim, make sure you seek legal help.
The dedicated and experienced Tampa distracted driving accident lawyer at Moore Law can assist you with your car accident case. Want the most compensation possible for your case? Get Moore. To schedule a free consultation, call 813-510-5400 or fill out the online form.
Resource:
news4sanantonio.com/sa-living/distracted-holiday-driving-helpful-tips-and-statistics