Cruise Ship Passengers Experience Freak Waterfall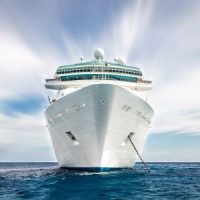 Cruise ships can be a lot of fun. They feature a lot of entertainment, food, poolside fun, and even surprise waterfalls. OK, maybe that last one isn't a common feature, but it was on the Royal Caribbean International's Harmony of the Seas cruise ship.
The incident happened on January 3 as the cruise ship was traveling through the Straits of Florida, which is located between the Florida Keys and Cuba. The ship tried to avoid hitting a suspected refugee raft. The crew took evasive action and it caused one of the ship's swimming pools to overflow.
Water could be seen cascading down the ship from Deck 15, which was where the Beach Pool and Splashaway Bay attraction were located. The water went all the way down to Deck 8, where there was another swimming pool. There were no injuries to any passengers and no damage to the ship except for a little flooding.
The water spillage was immediately managed, with crews quickly cleaning up the water and drying out the deck to minimize any effects of the flooding. The seven-night Caribbean cruise continued as planned. Harmony of the Seas was leaving Royal Caribbean's private Caribbean island of CocoCay and heading towards Cozumel in Mexico.
As for the raft, it turned out to be empty. Royal Caribbean informed the U.S. Coast Guard. Under international maritime law, cruise ships are obligated to offer assistance to any refugee vessels they find on the water. This means they may be required to take the refugees aboard the cruise ship. This is not an uncommon situation. Numerous refugees escaping Cuba have been picked up by cruise ships so far this year.
Common Cruise Ship Injuries
While nobody was injured in this incident, passengers can and do get injured all the time. Some common causes include:
Slips and falls. Because cruise ships travel on water and there are often pools on the ship, water can get on the deck, creating slippery surfaces. A person can slip and fall and suffer serious injuries.
Food poisoning. There's a lot to eat on cruise ships and sometimes the food is left out for a long time or not prepared properly. This can cause bacteria to grow, leading to food poisoning.
Defective equipment. Pools, slides, and other equipment can be designed poorly or be defective, causing serious injuries.
Criminal activity. Assault and rape are common on cruise ships. The offenders may be other passengers or crew members. These crimes often occur due to inadequate security and poor lighting.
Contact a Personal Injury Attorney Today
Cruise ships are supposed to be relaxing, but sometimes accidents and other incidents happen while guests are on board.
Injuries and fatalities can occur on cruise ships. Contact a Tampa cruise ship accident attorney from Moore Law for compensation. Don't settle for less – get Moore. Schedule a free consultation by filling out the online form or calling 813-510-5400.
Source:
newsweek.com/passengers-hit-freak-waterfall-cruise-ship-steers-avoid-raft-video-1772050