Florida Woman Awarded $948,000 In Slip And Fall Case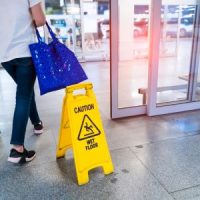 Slip and fall cases may seem funny at first glance, but they are no laughing matter. A person can suffer back, neck, and head injuries, as well as broken bones and other serious injuries from slipping and falling.
This was the case for a Florida woman, who was seriously injured after slipping in a Walmart bathroom in 2016. The woman was helping her mother in the store's bathroom when she slipped on the floor, which had just been mopped.
The woman hit her head on a stall. She suffered mental anguish and unspecified injuries that are considered to be continuing and permanent. She and her lawyers sued Walmart, claiming that the store should have kept the bathroom closed until the floor was dry and warned customers of the danger. A jury in Apopka awarded the woman $948,000 in total—$198,000 for medical expenses and $750,000 for pain, suffering, mental anguish, disability, and inconvenience. The complaint named Walmart and the store manager as defendants.
Slips and Falls at Walmart
Slip and fall incidents are common at Walmart. After all, Walmart is one of the largest retailers in the country. There are 30 stores in central Florida alone and with each store averaging 100,000 square feet, the risk of slipping and falling is quite high.
Walmart sees numerous slip and fall claims as well as other personal injury lawsuits. When a person is injured due to the store's negligence, they should work with an experienced lawyer to help them get compensation for medical expenses, lost wages, pain and suffering, disfigurement, disability, and other damages.
The outcome of a slip and fall can be wide-ranging. Such an incident could result in serious injuries, disability, and even death. Because of this, the settlement amounts for a slip and fall case at Walmart may be as high as six to seven figures. In Florida, some cases have resulted in multi-million-dollar awards. This will, of course, vary from case to case.
Proving Liability
The store will hardly ever admit fault. Walmart does not want to be held liable for slip and fall injuries. They will often argue that they were not given notice of the slippery condition before the victim fell, so they cannot be at fault.
Walmart may disagree with a settlement offer. They may try to lowball you or not take any responsibility at all. That is why you need aggressive legal representation on your side to help you get a favorable outcome.
Contact a Slip and Fall Attorney Today
Slipping and falling in a grocery store, restaurant, or other public place is not only painful but embarrassing. Make sure you receive compensation for all your physical and emotional injuries.
If your slip and fall was caused by someone else's negligence, the Tampa slip and fall attorney at Moore Law can help you with your case. We know how to handle these complex cases. Schedule a free consultation by filling out the online form or calling 813-510-5400.
Resource:
insurancejournal.com/news/southeast/2021/11/05/640916.htm