Slips And Falls At Hotels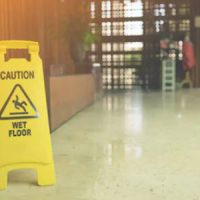 Slips and falls tend to happen in and around homes, but the truth is that they can happen anywhere. They can happen at work, at a grocery store, or inside a restaurant. They can also happen when you least expect it, such as on a vacation.
Many tourists stay at hotels and resorts when vacationing throughout Florida. When people go on vacation, they are focusing on having fun. They don't always think about the possibility of slips and falls before it is too late.
Hotels have many guests and accidents can happen, especially if the hotel has a casino or resort, where there are more amenities. Water, clutter, garbage, and other debris can lead to slippery conditions. This can lead to a major fall that causes back and neck injuries, broken bones, head trauma, and more.
Unsafe Conditions in Hotels
Hotels are generally safe, but they can be unsafe in various ways. Some elements that can lead to slips and falls include:
Open swimming pools
Spilled drinks
Wet floors
Freshly waxed floors
Missing or uneven floor tiles
Flooding indoors or outdoors
Accumulated snow or ice on sidewalks or in parking lots
Cracks in the floor
Uneven flooring or walkways
Damaged stairs
Inappropriate footwear
Clutter on the floor
Is the Hotel Responsible?
Just because you slipped and fell in a hotel does not automatically mean the hotel is at fault. Maybe you were on your phone and weren't watching where you were going. Maybe there were signs around the pool telling you to walk, but you ran anyway.
So in order to receive compensation for a slip and fall, you need to have proof that the hotel was liable. That means that these four elements must be met:
The defendant must have owed a duty to the plaintiff.
Breach of duty. The defendant must have breached the duty by failing to do something to prevent the slip and fall from occurring.
The slip and fall must have caused damages, such as medical bills, lost wages, and pain and suffering.
There must be proof that the breach of duty led to the damages.
The law states that property owners are required to keep their premises safe for visitors. Therefore, if they fail to address unsafe conditions, they are responsible for any injuries their guests suffer.
A successful lawsuit against a hotel depends on several factors, such as:
How the accident occurred
Hotel's percentage of liability for the injury
Severity of the injury
Required medical care
Your ability to work after the accident
Your medical history before the accident
Contact a Personal Injury Attorney Today
Slips and falls can happen anywhere. It's best to be careful no matter where you go so you don't wind up spending your vacation in an emergency room.
Injured by a hotel's negligence? Seek legal help from the Tampa slip & fall attorneys at Moore Law. We'll help you pursue these complicated claims. To schedule a free consultation, call 813-510-5400 or fill out the online form.
Source:
grainger.com/know-how/safety/walking-working-surfaces/slip-trip-hazards/kh-6-tips-help-prevent-slips-trips-and-falls