Most Common School Injuries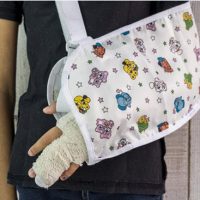 Many schools are back in session in Florida, and that means books, backpacks, tests, homework…and injuries. While most schools try to make their campuses safe for students, sometimes injuries happen on the playground, in the classroom, on the bus, or in other places around the campus.
While many injuries are minor, like cuts and bruises, some are more severe, requiring a hospital visit. If your child is going back to school soon, here are some common injuries you should be aware of.
Cuts and Bruises
Cuts and bruises are some of the most common injuries at school and luckily they are the most minor. They can occur in and out of the classroom virtually anywhere. These wounds are easy to treat. Bruises will generally go away on their own without any treatment. For cuts, keep them clean and bandaged.
Sprains
Sprains are common during recess and P.E., when there is a lot of running and physical activity in general. Sprains and pulled muscles are not usually serious, but they can be painful, especially for a young child. Ice, compression, and a lot of rest can be helpful.
Dislocated Joints
Knees and shoulders can get dislocated due to sudden movements on the playground or out on the field during sports. Dislocations need to be treated by a doctor, who can move the joint back into place. It may be necessary to brace the joint in place. Sometimes a child may need physical therapy to strengthen the surrounding muscles.
Broken Bones
Broken bones can happen when a child trips or falls while on school grounds. They may fall from the playground or trip over uneven ground on a playing field or blacktop. Schools need to ensure that the premises are safe for students to play. If a dangerous condition causes a child to suffer an injury, the school can be held liable. Broken bones can be painful and require many weeks of recovery. In severe cases, surgery and rehabilitation may be needed in order for the broken bone to properly heal.
Head Injuries
Head injuries are some of the most serious injuries that can occur on school property. Head injuries often affect the brain and can have lasting effects. Common head injuries include concussions, skull fractures, and traumatic brain injuries. These injuries can affect a person physically and emotionally, causing slurred speech, vision issues, dizziness, vomiting, loss of coordination, and many other symptoms. A child with a head injury may also suffer mental and emotional effects, such as changes in personality, anxiety, depression, and irritability.
Contact a Personal Injury Attorney Today
Young kids can be unpredictable. They can get injured in an instant, suffering broken bones, head injuries, and more.
Schools can be held accountable for many injuries on campus. Discuss your case with a Tampa school injury attorney from Moore Law. For a free consultation, call our office at 813-510-5400 or fill out the online form.
Source:
safer-america.com/5-most-common-school-injuries/#:~:text=Sprains,common%20source%20of%20these%20injuries