Nursing Home Resident Admits To Fatal Abuse Of Other Resident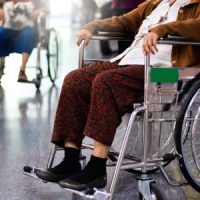 Nursing home abuse has become an epidemic in recent years. Low wages, staffing shortages, and a lack of training has caused nursing homes to hire workers who are not well-qualified. These staff members may neglect or abuse patients due to extreme stress.
But not all nursing home abuse is caused by staff members. There are cases in which it is caused by other residents. This was recently the case in Florida and sadly, the abuse led to a resident's death. The fatal incident occurred on the morning of May 11 in Flagler County.
Sheriff's deputies arrived at Gold Choice Assisted Living & Memory Care facility in Palm Coast. They found a 77-year-old woman dead in the room of another resident, a 72-year-old man. She was lying on the bed. The woman showed signs of trauma, including a busted lip and facial injuries. She had no pulse and was pronounced dead.
The man was found with blood on his hands. He admitted to choking and killing the woman after she allegedly wandered into his room. After a day-long investigation, police arrested the man. He has been booked into jail with no bond. He faces possible second-degree murder charges.
This was not the man's first time harming residents. The man has been recently moved to that area of the nursing home after attacking another resident. The sheriff's office is investigating whether or not the nursing home followed all protocols.
Resident-on-Resident Abuse
When people think of nursing home abuse, they often imagine staff members inflicting the abuse. While this is usually the case, many instances of abuse are caused by other residents. While this may seem surprising, keep in mind that in nursing homes, people tend to live close together. Plus, some residents have mental issues such as dementia, which can aggravate the situation. In fact, perpetrators of abuse often suffer from cognitive impairments or a mood disorder.
This type of abuse is often underreported, but it needs to be taken seriously. Resident-on-resident abuse may involve physical, verbal, or sexual abuse. It may also involve unwelcome entry into another resident's room. As seen in this case, resident-on-resident abuse can be fatal, which is why it is important for nursing home staff to be trained on how to recognize nursing home abuse.
While assisted living facilities are regulated by the states, federal nursing home law gives nursing home residents the right to be free from all forms of abuse.
Contact a Personal Injury Attorney Today
While nursing home abuse is often inflicted by staff members, other residents can inflict it onto residents, causing serious harm and even death, as seen in this case. It's important for loved ones to be on the lookout for any signs of abuse or neglect.
Unfortunately, physical, emotional, and sexual abuse are common in nursing home environments. Seek legal help from a Tampa nursing home abuse attorney from Moore Law. Discuss your case with us as soon as possible. To schedule a free consultation, call 813-510-5400 or fill out the online form.
Source:
kiro7.com/news/trending/man-accused-beating-another-resident-florida-nursing-home/HZQDVD4BEJCUTFVZBWC77HJBYQ/