Nursing Home Workers Caught Abusing Residents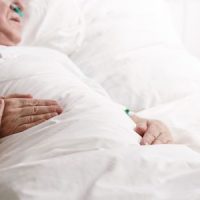 Putting a loved one in a nursing home is a major decision. You never know what will happen to your family member and what kind of care they will receive. While nursing homes are supposed to provide quality care for residents, not all do. Many staff members neglect patients. Some engage in abusive behavior.
Unfortunately, this recently happened in Florida. Two nursing home workers were arrested in mid-March after police say surveillance footage showed the two women whipping an elderly resident.
The employees, ages 19 and 21, have been arrested and charged with two counts of battery on a person over the age of 65 years. They both have been suspended from work, but official termination is still pending.
The abuse allegedly took place on March 12. The two employees and an elderly resident were involved in the incident. It occurred at the Inspired Living at Ivy Ridge Assisted Living Facility, which is located on 40th Avenue North in St. Petersburg.
Surveillance footage showed the two women whipping an elderly male resident, who was pushing a woman in her wheelchair. The employees were using a lanyard on the man and laughed as the abuse took place.
Both women grabbed the man and caused him to fall to the ground. He was holding on to the wheelchair at the time, causing it to fall sideways while the woman was in it. The employees then ran away from the scene, leaving both elderly residents lying on the ground.
The women reported the incident to their co-worker. However, they led and said that the man had battered the female resident. They were adamant that they were not involved.
Police located the women and interrogated them. While the 21-year-old was being interviewed, she admitted that she used excessive force when dealing with the incident. She also stated that they should have handled it differently.
Both women were arrested and charged with two counts of battery. The residents involved were not injured.
Unfortunately, nursing home abuse affects thousands of families every year. In 2020 alone, there were more than 15,000 complaints filed with nursing home ombudsmen regarding abuse and neglect. However, not every case of nursing home abuse gets reported, so it's hard to determine exact figures. Many senior citizens are unwilling to report the incident. Some have mental issues or are unable to speak or communicate well and are unable to report what happened.
Contact a Personal Injury Attorney Today
Nursing home abuse is, unfortunately, a widespread issue. Patients should never be abused or neglected and family members should have peace of mind knowing that their loved ones are well cared for.
Many nursing home abuse cases go unreported. Don't let this happen. Contact a Tampa nursing home abuse attorney from Moore Law to file a claim and hold the responsible parties liable for their actions. Call 813-510-5400 or fill out the online form to schedule a free consultation.
Source:
newsweek.com/rosa-edwards-aneisha-hall-nursing-home-workers-arrest-beating-resident-florida-1788294