Why Motorcycle Accidents Are Dangerous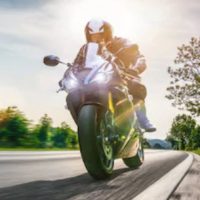 Motorcycles can be fun to ride in the warm Florida weather. Cruising the open road can be exhilarating. However, many people take these vehicles to their limits. They speed and drive unsafely, causing serious and even fatal accidents.
In 2021, 5,932 motorcyclists were killed in crashes. This is the highest number of fatalities in more than 45 years. In the United States, motorcycles make up only 3% of registered vehicles but are involved in 14% of all traffic deaths.
Motorcycle accidents are dangerous. This is because motorcycles do not have the same protective features as passenger vehicles. They lack airbags and metal frames, so when a motorcycle crashes, the rider is likely to be thrown off and hit the ground or other objects. Motorcycle riders also have a higher risk of head injuries, which can be serious and cause long-term problems. Motorcycle riders are more likely to have multiple injuries that require a lot of medical treatment.
It's important to understand that many motorcycle accidents are due to problematic brakes. Brakes do not work well on a motorcycle and can cause a bike to easily spin out of control, causing injuries due to sliding. Cars have much stronger brake systems.
Along the same lines, motorcycles can easily spin out of control. They have just two wheels, while passenger vehicles have four. This results in more stability. The steering in a motorcycle is highly sensitive, so one wrong move can lead to a sudden loss of control and a dangerous situation.
Safety Tips
Arms and legs can be greatly affected in a crash and should be completely covered when riding a motorcycle. Wearing leather and heavy denim are good choices. Boots or shoes should be high enough to cover your ankles. Gloves allow for a better grip and help protect your hands in the event of a crash. Bright, reflective clothing is also a good option, It will make you more visible to other vehicle drivers.
Ride responsibly. Know the laws and avoid taking risks. Ride with the flow of traffic and always check before changing lanes. Be cautious at intersections and yield when appropriate. Use your headlights at all times to improve visibility.
Avoid alcohol and drugs before getting on your bike. These substances can impair your judgment, making you less alert. Alcohol and drugs can also affect coordination, balance, and reaction times, making an accident more likely to occur.
Contact a Personal Injury Attorney Today
It's best to avoid a motorcycle accident if at all possible. The risk of suffering a catastrophic injury or fatality is very high.
The team at Moore Law can get you the best results after a motorcycle crash. Our Tampa motorcycle accident attorney can assist you and help you get full and fair compensation. Schedule a free consultation by calling 813-510-5400 or filling out the online form.
Source:
nhtsa.gov/road-safety/motorcycles