Motorcyclist Killed In Solo-Vehicle Crash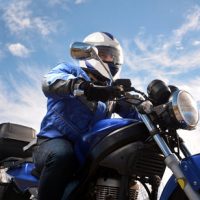 While many motorcycle accidents are caused by other drivers, there are a great deal of crashes that are caused by motorcycle riders losing control of their bikes. These solo-vehicle accidents often result in fatality.
Sadly, this was recently the case in the Tampa area, when a man was killed in a motorcycle accident. The fatal crash occurred on the evening of August 27 on US-41, near Bloomingdale Avenue.
A 46-year-old man from Riverview was riding his motorcycle when he suddenly lost control for unknown reasons. He was ejected from the bike. The man, who was wearing a helmet, died at the accident scene.
Ejections From Motorcycles
People don't usually get ejected from vehicles unless they are not wearing a seatbelt. They have the seatbelt holding them in, plus they are in an enclosure that keeps them relatively safe.
Motorcycles, on the other hand, have no seatbelts, roof, or doors, so if a rider hits something, the impact will likely cause them to fall off the bike. This can be deadly. Even if a rider wears a helmet, they can still suffer fatal injuries.
There are several situations in which a motorcycle can be ejected:
The rider tries to stop too quickly.
A vehicle pulls out in front of a motorcycle.
A driver opens a door in front of a moving motorcycle.
Adverse weather conditions throw the motorcycle out of balance.
There are potholes or debris on the road.
There is uneven pavement or loose asphalt.
The motorcycle does not slow down in time and hits a vehicle or other object.
The motorcycle is rear-ended by a larger vehicle.
When a rider is ejected, they can suffer various injuries. The head and neck tend to bear the brunt of the impact, especially if the rider collides with another object. However, any part of the body can be affected, depending on how the rider falls.
Common injuries caused by an ejection include:
Broken bones
Concussions
Traumatic brain injuries
Lacerations
Eye and face injuries
Foot and leg injuries
Paralysis
Amputations
Who is at fault? Liability can vary. In a solo-vehicle crash, there may not be anyone to blame unless it can be proven that something external caused the accident, such as a defective motorcycle part or perhaps a defect with the road that should have been fixed (such as a pothole). Contact a lawyer to learn more about determining liability.
Contact a Personal Injury Attorney Today
Motorcycle accidents are serious issues, especially when a rider gets ejected. Riders can suffer road rash, broken bones, head trauma, back and neck injuries, other serious injuries, and even death.
If your loved one has been killed due to someone else's negligence, the Tampa motorcycle accident attorneys from Moore Law can help you with your claim. We understand the damages involved and make sure you get fully compensated. Get Moore. To schedule a free consultation, call 813-510-5400 or fill out the online form.
Source:
wfla.com/news/hillsborough-county/riverview-man-dies-in-motorcycle-crash/