Driver Hits Bicyclists In Fort Lauderdale, Flees Scene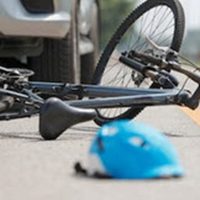 Bicycles and motor vehicles need to co-exist on the roadways, but that does not always happen. Aggressive drivers try to run bike riders off the road and even intentionally hit them, causing serious injuries.
An incident on May 21 has left at least one bicyclist with serious injuries. A video shows a driver intentionally hitting a group of bicyclists in Fort Lauderdale at Oakland Park Boulevard and A1A. The driver is seen turning at the intersection. They then veer into the bike line and hit a group of bicyclists. The driver continues on, hitting another bike rider.
One bicyclist was ejected due to the impact of the crash. He suffered injuries to his arms and legs.
The motorist took off and police are still trying to catch the driver. Police are talking to witnesses to gather more information about what happened before the accident. Police did receive calls about a group of 100 to 300 bicyclists vandalizing and surrounding vehicles, blocking bridges, and disrupting traffic. It was confirmed that someone did throw bricks at the vehicle that hit the bicyclists.
The incident has not been classified as a hit and run. It is still under investigation.
Just days before the incident, new bike barriers, signs, and other safety measures were added to roadways throughout Miami-Dade County. The changes were made after two bicyclists were hit and killed while riding near the William Powell Bridge.
Aggression Toward Bicyclists
It's no secret that many motorists are aggressive toward bike riders. This is scary for bicyclists, who have the right to be on the roads with motor vehicles. Studies show that motorists actually see bike riders as "less than human." This dehumanization leads to more aggressive behavior.
According to the study, many respondents agreed with statements such as "I feel like cyclists are mechanical and cold, like a robot." Many respondents also admitted that they have intentionally driven close to a cyclist or behaved aggressively in some other way.
Previous studies have also shown that aggressive behavior toward cyclists is pretty common. Research has shown that as many as 70% of cyclists have experienced harassment from motorists. Some have even had objects thrown at them. Oddly, references to violence against cyclists are not given the same condemnation as bullying or violence toward women.
Many people enjoy riding bicycles on Florida's roadways, so the results of this study are frightening. It is unknown why people think so lowly of bike riders, but something needs to be done to change people's attitudes.
Contact a Personal Injury Attorney Today
Florida is one of the top states for bicycle accidents. If you have been affected, make sure you seek legal help right away.
Bike crashes can cause catastrophic injuries and even death. A Tampa bicycle accident attorney from Moore Law can help you understand your legal rights so you get the compensation you deserve. Fill out the online form or call 813-510-5400 to schedule a free consultation.
Source:
local10.com/news/local/2022/05/23/video-shows-driver-striking-bicyclists-in-fort-lauderdale/