Bicycle Accidents: Causes And Prevention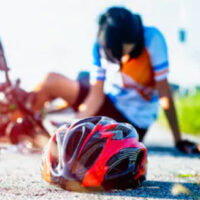 Bicycles can be fun to ride. They're a good way to get from place to place, but they can also be dangerous.
When a bicycle collides with a vehicle, the results can be catastrophic and even deadly. Bicycle crashes are very common in Florida, with the state ranking first or second every year. In 2019, 846 bicyclists were killed in crashes.
A serious bike crash can happen any time you're on the road. Bicycle injuries can range from cuts and bruises to broken bones to neck and back injuries and even head trauma. If you're a bicyclist, it's important that you know the main causes of bicycle accidents and how to prevent them.
Causes of Bicycle Crashes
Bicycle accidents can happen in a variety of ways, including the following:
Distracted driving. Distractions can affect not only passenger vehicles but also bicycles. When a driver is distracted, they aren't focusing on the road, which means they can hit a bicyclist or cause other types of crashes.
When a driver is speeding, they cannot react quickly to hazards. This means they can hit a bicyclist at high speeds, causing severe injuries. However, keep in mind that a bike rider can be seriously injured even at low speeds.
Not following traffic signs. Running a red light or stop sign is not only illegal, but also dangerous. A vehicle can collide with a bicycle that has the right of way.
Unsafe lane changes. It's important to look thoroughly before changing lanes. You may think it's clear but a bicycle may be in your blind spot. Merging into a bicycle's lane can be a dangerous situation.
It's common for both motorists and bike riders to be under the influence of alcohol or drugs while driving. It's important to be sober while driving or riding to avoid serious accidents caused by slow response time or poor judgment.
Preventing Bicycle Crashes
Here are some tips for bicyclists to avoid accidents:
Ride the right bike. Make sure your bike fits you and works.
Make yourself visible. Bright clothing, reflective gear, and lights on your bike will make it easier for others to see you.
Go with the flow. Ride in the same direction as traffic so you can be more easily seen.
Look for road hazards. Don't underestimate the impact of a small item in your path. Even small rocks, potholes, train tracks, and grates can cause you to lose control of your bicycle.
Stay focused. Don't listen to music, text, or do anything else that diverts your attention from the road.
Contact a Personal Injury Lawyer Today
When an accident occurs between a vehicle and a bicycle, the bicyclist is typically the one to get severely injured. If you have been involved in such a crash, make sure you take the appropriate steps to get the compensation you deserve.
Seek legal help from Tampa bicycle accident attorney  Eric Moore at Moore Law. He can assess your bicycle accident case and hold the liable party responsible for your damages. To schedule a free consultation, call 813-510-5400 or fill out the online form.
Resource:
nhtsa.gov/road-safety/bicycle-safety