Preventing Summertime Injuries In Children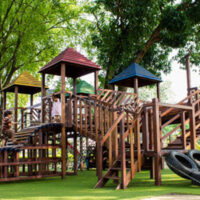 With summer on its way and school out soon, children will be spending more time outdoors. This is great news for parents, who often want to see their kids playing more and engaging in activity. However, this can also be a dangerous time, with more injuries taking place.
When you think of summertime injuries, you may imagine pool-related accidents. While drownings and slips and falls around pools are common, there are other ways your child can get injured as temperatures rise. Find out how to prevent these common accidents and keep your child safe.
Bicycling/Skating Accidents
Many children enjoy riding bikes, skating, and using skateboards during the summer months. However, accidents happen, causing children to fall off their bikes or skateboards. These incidents may cause minor injuries, such as scrapes or bruises, or lead to more serious injuries, such as broken bones and head trauma. Knee pads, elbow pads, and helmets can help prevent injuries. Parents should supervise children, keep them away from busy roads, and limit activities to daytime hours only, since motorists aren't always aware of bicyclists.
Sports Injuries
Many children enjoy playing sports such as basketball, soccer, and baseball during the summer. However, sprains and knee injuries are common, especially when playing on uneven surfaces, such as grassy areas. Sports can also lead to head injuries. While these injuries cannot always be avoided, it's best to see a doctor right away after a head injury. Something seemingly minor can turn into a concussion or brain injury, so don't delay treatment.
Playground Accidents
Whether you have a play structure in your backyard or enjoy visiting the local park, playgrounds can be fun for younger children. However, they can also be dangerous, especially if the play areas have been poorly maintained. A swing could come loose or a slide could fall apart, causing your child to fall and get injured. Plus, your child could get injured by careless behavior, such as falling off a swing or monkey bars. Make sure to supervise them at all times and stay away from structures that look to be poorly maintained.
Trampoline Accidents
Children enjoy jumping on large outdoor trampolines, and while fun, they can be very dangerous. Children have been known to fall off trampolines, causing broken bones as well as neck and head injuries. If you do have a trampoline at home, make sure to supervise your children at all times. Place a safety net around the trampoline to keep your child from falling off. If there are springs and other metal parts sticking out, cover them up to avoid scrapes.
Contact a Personal Injury Lawyer Today
Summertime injuries can put a wrench in your child's school vacation. Learn how to keep them safe so you can avoid broken bones and costly medical bills.
Contact the Tampa personal injury attorney at Moore Law if your child's injuries were caused by a third party's negligence. We can assess your case and help you obtain compensation for damages. Schedule a free consultation by filling out the online form or calling 813-510-5400.
Resource:
southfloridahospitalnews.com/page/Tips_to_Prevent_Common_Summertime_Injuries_in_Children_and_Young_Adults__/17819/25/