Uber And Lyft Accidents In Florida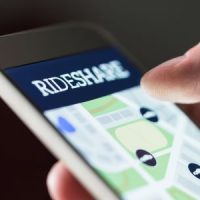 Rideshare services have become popular in recent years. Instead of hailing a cab, people use services such as Uber and Lyft to get from place to place. In fact, one-quarter of the U.S population uses a rideshare service at least once a month.
While these services are convenient and offer a personalized experience, there are still risks involved. You are putting your safety in the hands of a stranger. As they are vehicles driven by real people, there is a risk of a car accident. If you are injured in a crash, you will need to ensure you get the compensation you deserve. That can be tricky when a rideshare service is involved because of the tricky insurance process. Here's an overview of it so you know what to expect as a rideshare passenger.
How Insurance Works for Rideshare Companies
An Uber or Lyft driver is not insured by the rideshare company at all times. There are times when a driver's personal insurance will apply. Here is a breakdown:
App is off. The driver's personal auto insurance policy applies.
App is on and the driver is waiting for a ride request. Uber and Lyft both provide $25,000 in property damage per accident, $50,000 in bodily injury per person, and $100,000 in bodily injury per accident.
Driver is on a trip or en route to pick up riders. Both Uber and Lyft provide $1 million in third-party liability, uninsured/underinsured motorist bodily injury coverage, and contingent comprehensive and collision coverage up to the actual cash value of the car.
What to Do After a Rideshare Accident 
What you should do after a rideshare accident are pretty much the same steps you would take for any car crash. After a car accident, the first thing to do is get the names, contact information, and insurance details of everyone involved. If there are witnesses, ask for their contact information as well.
Your next step is to gather as much evidence as possible. Before you leave the accident scene, be sure to take photos of the area, including the vehicles, injuries, and surrounding areas. You should also jot down notes about how the accident happened, what happened, general location, and time of day.
Next, call the police. This is an especially good idea when you're involved in an accident involving an Uber/Lyft vehicle. A police report will be good evidence to present to your insurance company. If you believe the rideshare driver was at fault, a police report can help back up your claim.
Contact a Personal Injury Lawyer Today
Rideshare accidents can be complicated based on the various guidelines. Drivers do have insurance at certain times, but overall, filing a claim can be tricky if you are involved in an accident.
The Tampa car accident lawyer at Moore Law can help you handle an accident involving an Uber or Lyft vehicle. We can help you get the compensation you deserve for your injuries. To schedule a free consultation, fill out the online form or call 813-510-5400.
Resource:
policyadvice.net/insurance/insights/ride-sharing-industry-statistics/#:~:text=About%2025%25%20of%20the%20entire,of%2030%25%20in%20the%20US