Worker Injured In Trench Collapse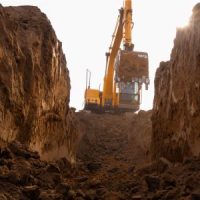 Construction sites have many hazards, and one of them is a trench collapse. A trench collapse is a construction worker's worst fear, as nothing is worse than being buried alive.
A Florida man was recently the victim of a trench collapse in Brevard County. Fortunately, he survived after being up to his neck in sand and mud for several hours.
The incident happened just after noon on May 12. The 59-year-old construction worker was at an excavation site at 4885 U.S. Route 1 in Sharpes. He was inside a trench when it collapsed. By the time the Brevard County Sheriff's Office arrived at the construction site, the man was buried up to his neck as water filled the hole. There were 29 units from the sheriff's office, including the dive team and the fire rescue.
The trench collapse happened when a construction crew was performing a test hole at the site. Two workers were standing on each side of the trench when one side collapsed. This caused the man to fall inside. The other side then collapsed and the trench began filling with water.
Seventy people took turns using cranes to remove water from the hole and get the man to safety. It was a difficult endeavor, since every time rescuers would pull the water and the dirt from the hole, it would immediately fill back in. It took a lot of work to dig the man out.
Fortunately, the man, an employee with Jr. Davis Construction Company, did not get fully buried. He was able to communicate with firefighters the entire time but he did experience excruciating pain from the ordeal. He was airlifted to the hospital's trauma center. The Brevard County Sheriff's Office is investigating the collapse.
Construction Trench Collapses
Construction trench collapses, also known as cave-ins, are one of the most feared construction accidents in the construction industry. The very thought of being buried alive is horrifying. Construction workers may suffer asphyxiation and inhalation of toxic fumes. Electrocution or explosions are also possibilities when the worker comes into contact with underground electric cables. The fatality rate for excavation work is much higher than the rate for general construction. The man in this case was very lucky to be alive, as he was neck-deep in soil and could have easily suffocated.
Trench collapse cases often result in serious injury or death. Therefore, before beginning trench work, construction managers should work with experts to become knowledgeable and proficient in construction installation methods and means, various shoring components, testing, soil classifications, impact of weather conditions, and OSHA regulations.
 Contact a Personal Injury Attorney Today 
Construction sites often have many hazards. Trenches are just one of them, with collapses able to cause suffocation.
If you have been injured on a construction site, contact a Tampa construction accident attorney from Moore Law right away. We can determine liability so you know who to sue. To schedule a free consultation with our office, call 813-510-5400 or fill out the online form.
Source:
wesh.com/article/collapsed-trench-cocoa/39981521