Understanding Amusement Park Accidents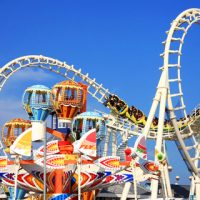 Florida is home to Walt Disney World, Universal Orlando, SeaWorld, and many other amusement parks. While most people equate amusement parks with, well, amusement and fun, this sadly is not always the case. People go to these parks to have a good time but sometimes they end in injury and even fatality.
Accidents can happen anywhere, even at amusement parks. In fact, they happen more than you think. There are approximately 30,000 people injured at these parks every year. Fatalities, fortunately, are much more rare, with just a few happening in the past decade.
While the thought of getting injured at an amusement park can be scary, keep in mind that you're much more likely to get struck by lightning. Amusement park rides are generally very safe. Still, it's a good idea to understand how these accidents can occur.
Types of Injuries
A person on a ride can suffer a variety of injuries, including the following:
Head, neck, and back injuries
Traumatic brain injury
Stroke
Aneurysm
Broken bones
Lacerations
Torn ligaments
Drowning
Death
Causes of Injuries
Amusement park injuries may be caused by the following:
Improper operation. The rider may not operate the ride properly, such as stopping it suddenly or latching a seat belt incorrectly.
Mechanical failure. This can be caused by the park's poor maintenance of the ride or by a manufacturer defect. Common issues include a broken structural component or a detached roller coaster car or lap bar.
Not following directions. When a passenger misuses the ride by standing up in the ride, rocking the car, unlatching the seat belt, or sitting improperly, it can lead to injuries.
Freak accidents. There are rare situations in which the cause of an accident is unknown. No problems or evidence of negligence can be found.
Nature of the ride. Sometimes a ride can cause injuries even during proper use. For example, the fast spinning nature of some rides can cause headaches, dizziness, loss of consciousness, and hemorrhages in the eyes and brain.
Safety at Amusement Parks
You can do your part to stay safe. Avoid serious injuries with these common sense guidelines:
Follow a ride's restrictions regarding age, height, weight, and health conditions.
Use seat belts, safety bars, and other safety equipment.
Follow the rules when it comes to loading and unloading.
Follow seating guidelines to avoid overcrowding.
Keep your hands and feet inside the ride at all times.
Keep your children off the ride if they aren't following the rules.
Always trust your instincts; don't go on the ride if you don't feel comfortable.
Contact a Personal Injury Lawyer Today
When a fun day at the amusement park turns into tragedy, make sure you are aware of the next steps. You want to ensure your damages are paid for by the at fault party.
If you have been injured in an amusement park accident, make sure you seek legal help. Liability can be complicated, so let the Tampa amusement park accident lawyer at Moore Law help you get compensation and justice. Fill out the online form or call 813-510-5400 to schedule a free consultation.
Resource:
farandwide.com/s/worst-amusement-park-accidents-5d2b791956534c7a