5-Year-Old Girl Suffers Traumatizing Dog Attack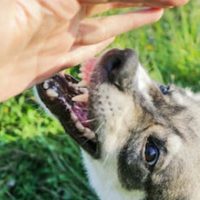 Children often love dogs and other animals, but this love is sometimes unrequited. Even the sweetest, friendliest dog can attack, causing disfiguring injuries.
This recently happened to a 5-year-old girl in Florida. The girl was attacked by a dog when she pet it, causing scars. The attack happened on February 10 at Hortt Park in Fort Lauderdale.
A woman with a dog invited kids to pet it, claiming that the dog was good with kids. The girl was petting the dog when the dog suddenly turned and bit the girl in the face.
The girls' mother, who was about 10 feet away, heard the screams and ran toward the girl. She tried to pull the dog by its collar, but the collar broke. The dog attacked the girl again. Her mother kept  grabbing the dog and fighting it back. She held onto the dog and screamed at the woman to take control of the dog. The owner had the dog on a leash, but wasn't doing much to restrain the dog, allowing the dog to attack the girl.
The girl's father was upset that the owner of the dog didn't take control of the situation. His wife had to wrestle the dog away while the girl was on the ground bleeding.
The mother, an ER physician, made a quick assessment and rushed the girl to the emergency room at Broward General Hospital. The sounds of the attack, including screams and barks, were captured by a nearby surveillance camera. When police arrived at the park, the woman and her dog were nowhere to be found. The owner and dog have since been located and identified.
The girl required more than 50 stitches and staples to patch up wounds to her face, scalp, back, and shoulder. The girl is "absolutely traumatized," according to her father. She is very lucky because some of the bite wounds are close to her eye, but she does not appear to be affected. The dog's owner had said she had adopted the dog recently and doctors were concerned about rabies.
The swelling in his girl's face has gone down, but she still faces a long road to recovery. The dog, whose breed is unknown, has been turned over to Animal Control, which is investigating the case. It is unknown as of yet if the owner will face criminal charges.
Contact a Personal Injury Attorney Today
Dog bites are serious events and can be especially debilitating for young children. Many suffer from scarring and disfigurement and some even develop a fear of dogs.
If you have been a victim, seek legal help from a Tampa dog bites & animal attack attorney from Moore Law. We'll help you bring the dog owner to justice. To schedule a free consultation, fill out the online form or call 813-510-5400.
Source:
wsaz.com/2023/02/13/graphic-girl-5-traumatized-after-dog-attack-father-says/