Dog Bite Laws In Florida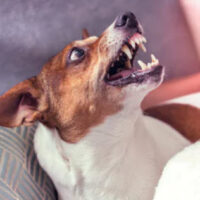 We treat our dogs like family, so they would never turn on us, right? Wrong! Dog bites injure millions of people each year. Florida is one of the top states for dog bite claims.
Each state is different when it comes to dog bite laws. Many states allow a dog one free bite, which means the owner won't be held liable the first time around. Florida, however, follows strict liability, which means that if the dog bites someone, the owner is automatically responsible. There is no need to prove negligence.
What the Law Says
Under Florida Statutes Section 767.04, when a dog bites someone in a public place, or lawfully in a private place, the owner is liable for any damages, regardless of the dog's history of viciousness or whether or not the owner was aware of such viciousness. So it doesn't matter if the dog has bitten someone before or not. However, the owner is not liable for any injuries if they display a sign on their property that includes the words "bad dog." The only exception is when the victim is under the age of 6.
What does it mean to be lawfully in a private place? A person is lawfully in a private place when they are performing necessary duties, such as a mailman or a repairman. A person who is invited to the property, such as neighbors, friends, family members, and other guests, is also considered to be lawfully in a private place. A person is not lawfully in a private place when they trespass or otherwise enter the property without permission from the owner.
Also, even with a "bad dog" sign on the property, it would still be necessary to prove that the owner was negligent. Examples would include the dog running loose in an unfenced yard or tethered to an object but still able to reach the sidewalk.
Compensation in a Dog Bite Case
A dog bite can cause a variety of damages, including the following:
Medical bills. Dog bites can require emergency room treatment, surgery, stitches, shots, plastic surgery, medication, physical therapy, and other medical costs.
Lost wages. Recovery from a dog bite can take weeks or even months. You will want to be compensated for your time away from work.
Pain and suffering. Getting bit by a dog can be very painful. Not only is there physical pain to deal with, but also the emotional damages. Many people develop a fear of dogs. You may feel stress and anxiety from the attack in the form of post traumatic stress disorder.
Contact a Personal Injury Lawyer Today
Dog attacks happen quite often. If you or a loved one is a victim, make sure you seek medical attention right away. Then seek legal help.
The Tampa dog bites & animal attacks attorney at Moore Law can assess your case and help you obtain the compensation you deserve. We have more than 25 years of experience dealing with dog bites and other personal injuries. Schedule a free consultation today by calling 813-510-5400 or filling out the online form.
Resource:
allpetslife.com/dog-bite-statistics/