2 Killed In Florida Pedestrian Accidents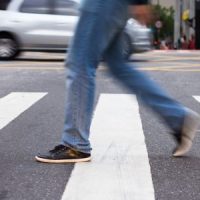 Pedestrians are a common sight in Florida, as the state sees many tourists due to theme parks and other forms of entertainment. Drivers need to be very careful when on the road, as pedestrians typically have the right of way. Pedestrians have no protection if they are hit by a car, so the result is often tragic.
Two people were recently killed in two separate pedestrian accidents in Orange County. The fatal crashes happened on the evening of November 19. Both are still under investigation.
The first crash occurred at the intersection of Aloma Avenue and Eastbrook Boulevard. A 22-year-old man from Orlando was traveling on Aloma Avenue. At the same time, a woman was crossing the intersection. The vehicle hit the pedestrian, a 70-year-old woman from Winter Park. She was taken to Winter Park Hospital, where she later died.
The second accident happened almost 90 minutes later at the intersection of Jordan Avenue and Winegard Road. A 76-year-old man from Orlando was heading north on Winegard Road when he hit a pedestrian who was crossing the intersection. The pedestrian, a 54-year-old man from Orlando, was taken to Orlando Health, where he later died.
Causes of Pedestrian Accidents
Many pedestrian crashes are caused by driver negligence. Motorists contribute to pedestrian accidents in the following ways:
When a motorist is driving too fast, it makes it harder for them to slow down and stop in time to avoid hitting a pedestrian. This is true even when the driver is going below the speed limit. Motorists must drive at a speed that is safe for conditions.
Reckless driving. When a driver is speeding, constantly changing lanes, or engaging in other risky behavior, they have a higher chance of hitting a pedestrian.
Distracted driving. The biggest cause of distracted driving is texting while driving. This action causes drivers to take their hands off the wheel and their eyes off the road. Any other behavior that causes a driver to take their focus off the road can also be distracting. This includes reading, changing the radio station, dealing with children, eating, and grooming.
Not following traffic signals. Traffic signals and laws are in place to help with traffic flow and protect everyone on the roadway. When a driver runs a stop sign or red light, they can get into an accident with a pedestrian or another vehicle.
Alcohol use. Drinking and driving is illegal, but many people still do it. Alcohol consumption affects judgment and coordination. Reaction time slows down, making it harder to drive safely and avoid accidents.
Contact a Personal Injury Attorney Today
Pedestrians are common in Florida due to tourists. Motorists need to be aware of them and drive safely. Even hitting someone at low speeds can be deadly.
Let the Tampa pedestrian accident attorney at Moore Law help you with your pedestrian accident case. We'll help you get the compensation you deserve. Get more with Moore Law. Get started with a free consultation. Call 813-510-5400 or fill out the online form.
Resource:
orlandosentinel.com/news/florida/os-ne-20211120-b2dc3wb4e5bmlpgl4ihouf2bie-story.html