Pedestrian Safety In Florida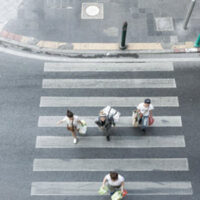 Walking from place to place is a great way to get around Tampa and other areas in Florida. However, it does come with dangers. Many people are injured in pedestrian accidents. In 2019, 6,205 pedestrians died in crashes in the United States.
Motorists are not always looking out for pedestrians. Even when you are in a clearly marked crosswalk, you could still get hit by a driver who is distracted, drunk, or simply not obeying traffic laws.
This can be concerning if you are a frequent pedestrian. The good news is that there are some ways to stay safe and avoid pedestrian accidents.
Tips for Pedestrians 
If you walk from place to place, here are some ways to stay safe: 
Cross at crosswalks. If you must cross the street, try to do so in a designated crosswalk. That is where drivers will expect you. If no crosswalk is available, cross at an intersection.
Stay on sidewalks. Stay out of the road if you can. If there are no sidewalks, walk facing traffic and stay as far to the side of the road as possible.
Stay alert. Stay off electronic devices while crossing a road. Watch where you are going and listen for vehicles.
Be predictable. Follow traffic laws and signs.
Be visible. Wear bright clothing to make yourself easily seen. When walking at night, carry a flashlight.
Avoid substance abuse. In many pedestrian accidents, the pedestrian is intoxicated and their judgment is impaired. Avoiding drugs or alcohol when walking.
Never assume. Just because you are in a crosswalk doesn't mean that drivers see you. Make eye contact before crossing. 
Tips for Motorists
 As a driver, you may encounter pedestrians on your commute. Here are some ways to avoid hitting them: 
Slow down. If you are an area with frequent pedestrians, take it slow. This will give you time to react if someone crosses your path.
Be patient. Seniors and disabled people often need to cross the street and they will need more time than younger, able-bodied pedestrians. Be patient and wait.
Don't pass stopped vehicles. If the vehicle in front of you is stopped, it may be because they are letting a pedestrian cross. Don't pass them unless you know for sure there is nobody in the path.
Avoid substance abuse. Just like pedestrians should avoid drugs and alcohol, so should motorists. Drinking and driving is not only illegal, but it impacts your judgment. It could reduce your reaction time and cause you to hit a pedestrian. 
Contact a Personal Injury Lawyer Today
A pedestrian accident can lead to serious injuries. Since you have no protection from a motor vehicle, you could suffer broken bones, spine injuries, head trauma, and many other injuries.
If you have been involved in a pedestrian crash, the Tampa pedestrian accident lawyer at Moore Law can help you with a settlement or take your case to trial if necessary. He will work hard to ensure you receive the most compensation possible. Schedule a free consultation today.  Fill out the online form or call 813-510-5400.
Resource:
nhtsa.gov/road-safety/pedestrian-safety